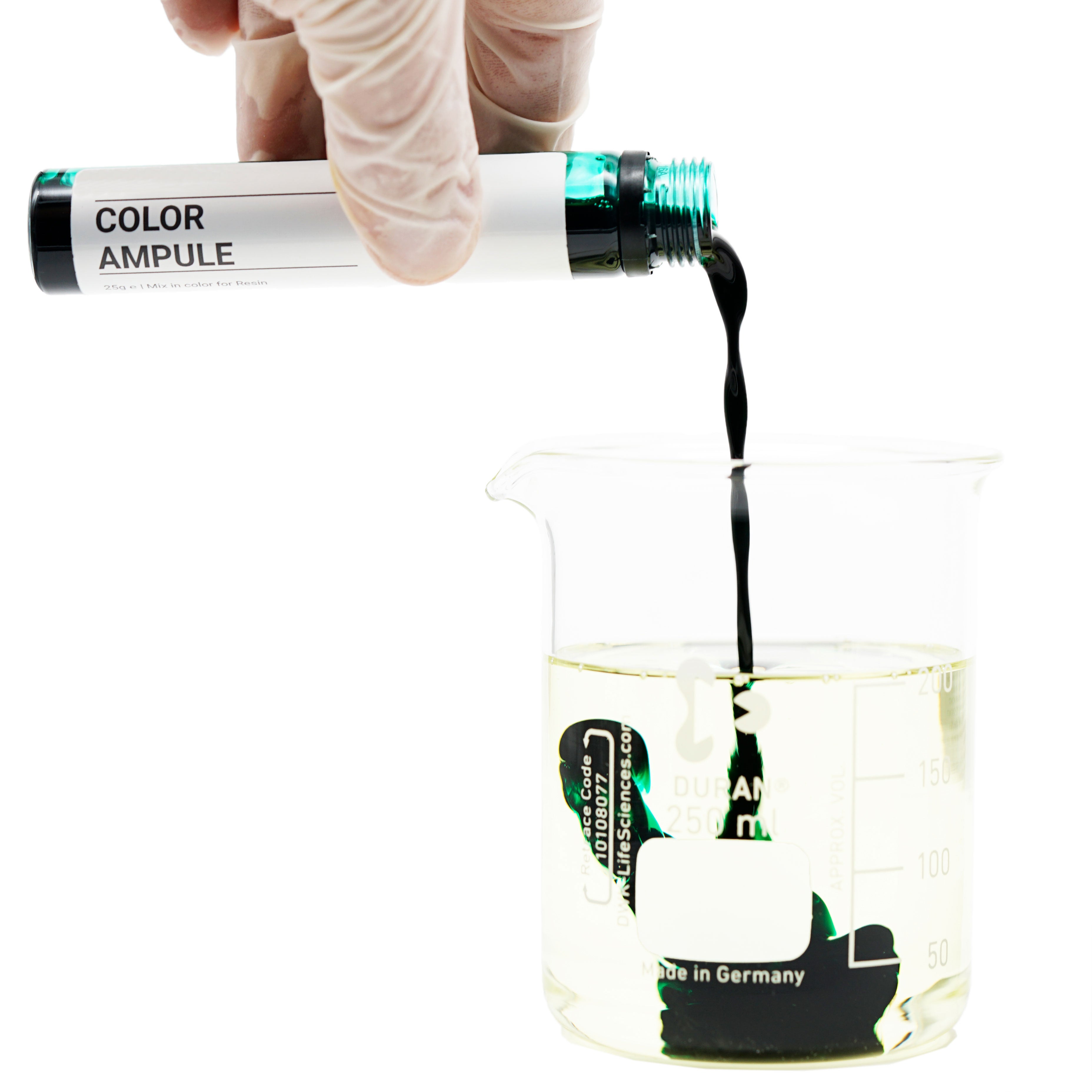 Color Ampule | RAL 7035 Light grey - 25g
US$5.81*
Content:
25 Gram
(US$23.24* / 100 Gram)
Available, delivery time: 2-4 days
Short description
Unleash your creativity with this coloring agent, designed to work with Basic Resin and a variety of clear or natural colored resins. Mix and match to create unique shades, while avoiding special or technical resins. Choose between translucent or solid colors for vibrant, personalized prints.
Product features
Can be used in Office spaces
Regulatory information
Color Ampule | RAL 7035 Light grey - 25g compensates CO2-Emissions equal to 10 times its weight. Learn more
Product information "Color Ampule | RAL 7035 Light grey - 25g"
Color Ampule is a coloring agent for Basic Resin to open up a world of color. It was designed in to work in tandem with Basic Resin but can be mixed into a wide range of clear or natural colored Resins. It is not recommended to be used with special or technical Resins since the color might impact the resins performance or characteristics.

Translucent or Solid color choice.
Value Resin is produced by 3D-basics in the heart of Europe. High Quality rawmaterials are mixed in a special purpose Cleanroom to ensure quality throughout the process. Intense vivid colors are mixed in for a splash of color. Every batch is tested to comply with the high standards. 

Mix and Match your individual color.
Stick with a color provided or further expand the range by mixing two or more colors together. It is recommended to either mix translucent or solid colors but not mix both.
Use up to a maximum of 25g of color per 1kg of Resin.
Overuse can deteriate the print quality.
Great Value no shortcuts needed
Value Resin is made from high quality rawmaterials from leading Resin component manufacturers. Economy of scale helps keep the price of Value Resin at an affordable price. At 3D-basics all formulations are created and tested in house. During the development ingredients are carefully selected with their health and safety implications in mind.
How to use Color Ampule
Always wear Nitrile Gloves when handling Resin.
Shake Color Ampule very well until there is a uniform color throughout.
Pour content into Resin. Do not use more than 25g of Color for each kg of Resin. (max. 25g for 1kg or 12.5g for 500g)
Close Resin bottle tight and shake well to color the resin.
Let sit for 5min to give the resin time to settle and let air bubbles escape.
Mark bottle with color and shake well before every subsequential use.
Advantages of Color Ampule
Expand your color range with ease.
Mix colors to create different colors.
RAL Colors for consistent color range.
Compatible with most clear or natural standard Resins
Compatability
Compatible
Most clear/natural Resins
Not Compatible
Precolored Resins
Special purpose Resins (might change characteristics)
How to Store Color Ampule
Store Color Ampule cool and dry away from sunlight inside its box to keep at peak condition.
Disposal of Color Ampule
Dispose of contents/container at an appropriate waste treatment site.
Labeling according to Regulation (EG) Nr. 1272/2008 (CLP)
Hazard Statements
H315 - Causes skin irritation. H317 - May cause an allergic skin reaction. H319 - Causes serious eye irritation. H412 - Harmful to aquatic life with long lasting effects.
Precautionary Statements
P102 - Keep out of reach of children. P273 - Avoid release to the environment. P280 - Wear protective gloves/protective clothing/eye protection/face protection. P302+P352 - IF ON SKIN: Wash with plenty of water. P305+P351+P338 - IF IN EYES: Rinse cautiously with water for several minutes. Remove contact lenses, if present and easy to do. Continue rinsing. P333+P313 - If skin irritation or rash occurs: Get medical advice/attention. P337+P313 - If eye irritation persists: Get medical advice/attention. P501 - Dispose of contents/container in accordance with local/regional/national/international regulations.
Supplemental hazard information
EUH205 - Contains epoxy constituents. May produce an allergic reaction.
Supplemental information
| | |
| --- | --- |
| Tariff Code | 2916 1400 |
| Country of Origin | Austria |
| Product weight | 0.025 kg |
| Shelf Life | 12 Months |
| Shipping weight | 0.05 kg |
| Packaging Dimensions | 116 x 26 x 24 mm |
| Shipping Restrictions | Not Restricted |
| SKU | 33047351 |
| EAN Code | 9120078083178 |
| UFI Code | QYEN-CD7V-6T2C-9E0W |
Download Section