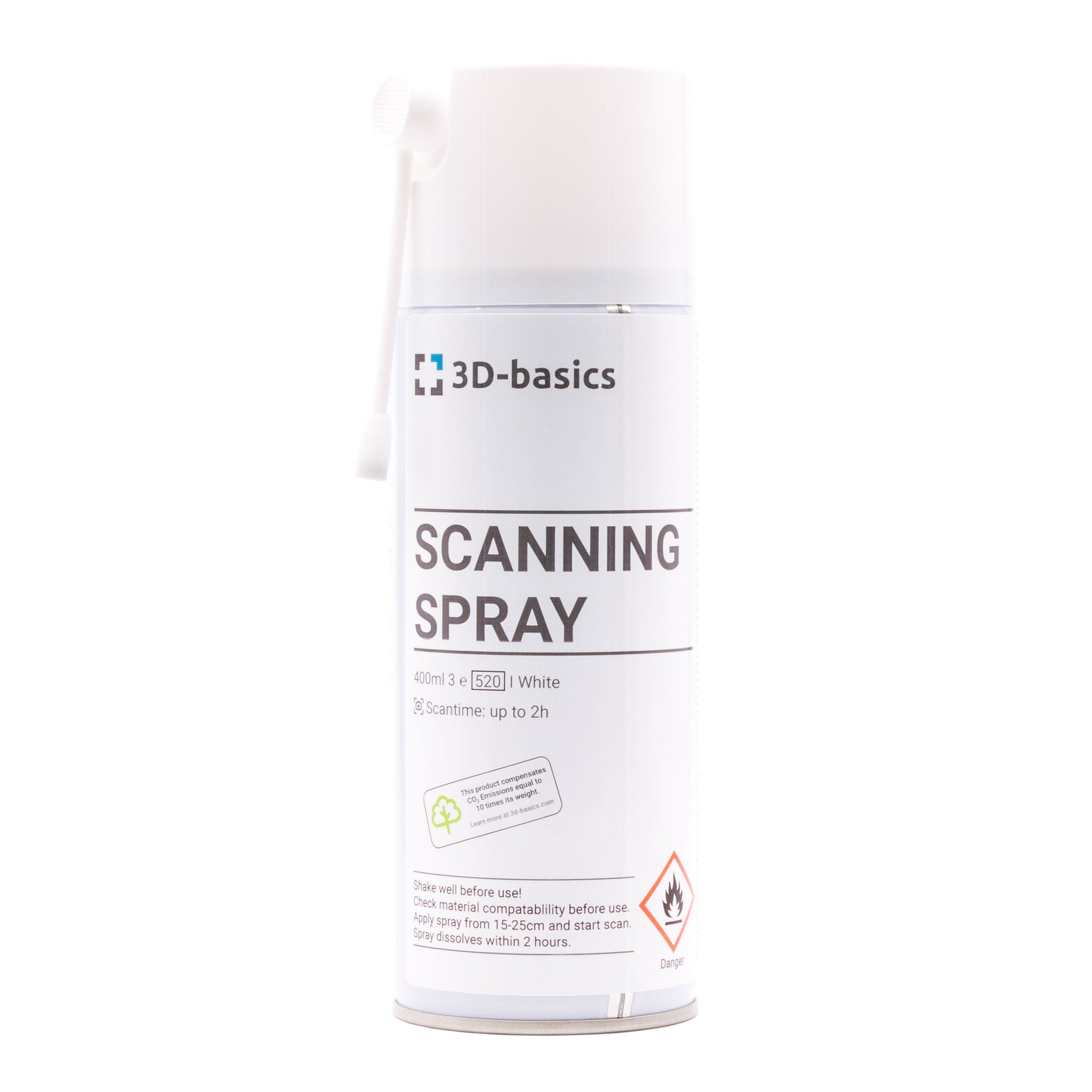 Scanning Spray | 400ml
Available, delivery time: 2-3 days
Short description
Facilitate 3D scanning of reflective and transparent surfaces with Scanning Spray. Lasting 2 hours and dissolving without a trace, it's perfect for diverse applications. Ensure precision, leave no residues, and apply effortlessly. Ideal for both industrial needs and intricate items.
Product features
Can be used in Office spaces
Regulatory information
Scanning Spray | 400ml compensates CO2-Emissions equal to 10 times its weight. Learn more
Shipping Restrictions
Scanning Spray | 400ml is classified as Limited Quantity and can therefore not be shipped to every destination.
No Shipping Restrictions
European Union
Norway
Switzerland
Great Britain
Shipping not possible to the following Countries/Regions
United States
Canada
Australia
Global
Product information "Scanning Spray | 400ml"
Scanning Spray is a revolutionary product designed to facilitate 3D scanning of transparent or reflective surfaces. The spray remains stable for up to 2 hours, dissolving completely without leaving any trace or pigment residue, making it suitable for various settings.
Easy to Use
Scanning Spray can be applied directly to the surface intended for 3D scanning. The fine layer of the spray allows for precise 3D scanning, and it can be safely used on various materials without causing any damage. After the scanning process, the spray dissolves completely within 2 hours, leaving no trace behind.
Safe for a variety of applications
Due to the unique formulation, the Scanning Spray does not leave any pigment or residue. This makes it an ideal solution for a wide range of scanning requirements, from industrial components to artifacts and fine arts.
How to Apply Scanning Spray
Ensure the surface intended for 3D scanning is clean and dry.
Shake the Scanning Spray can well before use.
Apply a fine, even layer of the spray onto the surface.
Let the spray settle for a few minutes before starting the 3D scanning process.
Post scanning, let the spray dissolve naturally or wipe it off after use if required.
Advantages of Scanning Spray
Enables precise 3D scanning of reflective or transparent surfaces
Remains stable for up to 2 hours
Dissolves completely, leaving no pigment or residue
Safe to use on a variety of materials
Can be used in a range of settings
How to Store Scanning Spray
Store Scanning Spray in a cool, dry place away from direct sunlight to maintain its efficiency. Always ensure the can is sealed tightly after use to prevent the spray from drying out.
Disposal of Scanning Spray
Dispose of empty Scanning Spray cans in accordance with local recycling guidelines for aerosols. Do not puncture or incinerate the cans.
Labeling according to Regulation (EG) Nr. 1272/2008 (CLP)
Signal Word
Danger
UN Number
1950
Hazard Statements
H222 - Extremely flammable aerosol. 
H229 - Pressurised container: May burst if heated. 
H412 - Harmful to aquatic life with long lasting effects.
Precautionary Statements
P101 - If medical advice is needed, have product container or label at hand. 
P102 - Keep out of reach of children. P103 - Read carefully and follow all instructions. 
P210 - Keep away from heat, hot surfaces, sparks, open flames and other ignition sources. No smoking. 
P211 - Do not spray on an open flame or other ignition source. P251 - Do not pierce or burn, even after use. 
P273 - Avoid release to the environment. 
P410+P412 - Protect from sunlight. Do not expose to temperatures exceeding 50 °C/122 °F. 
P501 - Dispose of contents/container in accordance with local/regional/national/international regulations.
Supplemental information
| | |
| --- | --- |
| Tariff Code | 3212 9000 |
| Country of Origin | Germany |
| Product weight | 0.348 kg |
| Shelf Life | 60 Months |
| Shipping weight | 0.348 kg |
| Packaging Dimensions | 71 x 64 x 200 mm |
| Shipping Restrictions | Limited Quantity |
| SKU | 343012 |
| EAN Code | 9120078083987 |
| UFI Code | Y6DS-M16E-T000-8536 |
Download Section