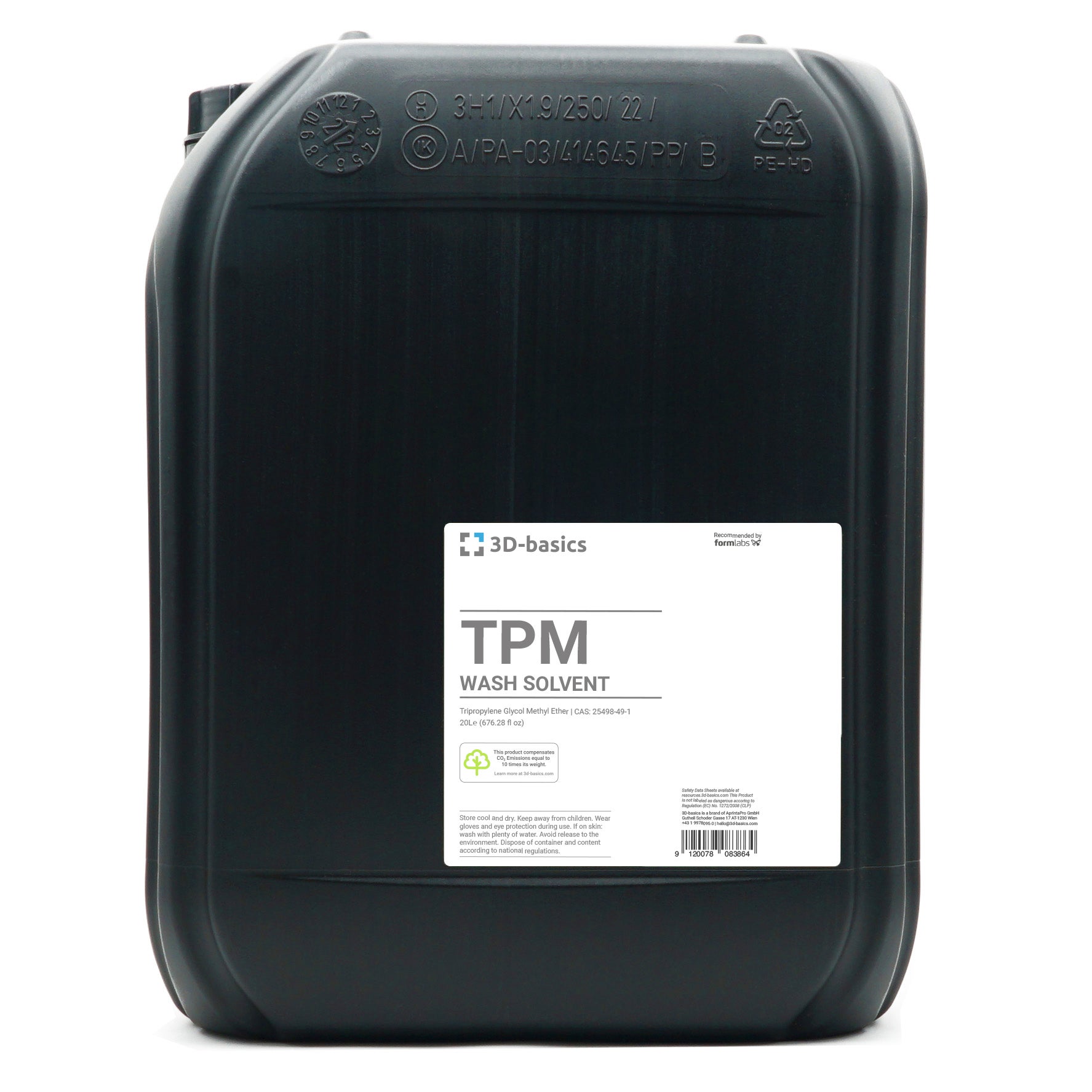 TPM Wash Solvent | 20L
US$336.73*
Content:
20 Liter
(US$16.84* / 1 Liter)
Available, delivery time: 1-3 days
Short description
TPM Wash Solvent is a non-flammable, low odour solvent designed for cleaning uncured resin on SLA 3D prints. With the ability to wash 3-4x more parts than IPA and a purity of ≥ 99%, it guarantees high efficiency. Safe for indoor, office, and lab use, it's endorsed by Formlabs and distributed by 3D-Basics. A cost-effective, longer-lasting solution for post-processing resin 3D prints.
Product features
Can be used in Office spaces
TPM Wash Solvent | 20L compensates CO2-Emissions equal to 10 times its weight. Learn more
Product information "TPM Wash Solvent | 20L"
TPM Wash Solvent (Tripropylenglykolmonomethylether) is a non-flammable, low odour solvent that can be used to clean and dissolve uncured resin on stereolithography (SLA) 3D printed parts. TPM has a lower evaporation rate than IPA and washes about three to four times as many parts as IPA before needing to be replaced.
Recommended and tested quality by Formlabs
3D-Basics is the global Solvent distributer for Formlabs. Purchasing TPM Wash Solvent from 3D-basics ensure maximum compatibility with Formlabs Resin and Machines. TPM Wash Solvent with a purity of ≥ 99% is highly effective at removing uncured resin from 3D-printed Models.
Safe use indoors, offices, and Laboratories
TPM Wash solvent is not classified by the EU Regulation 1272/2008 (CLP) therefor no special requirements are necessary to store or handle TPM Wash Solvent. This makes it ideal for work in office spaces, Laboratories, and indoors.
The cost effective way to post process Resin 3D-Prints
TPM Wash Solvent can dissolve three to four times the amount of Resin that Isopropanol is capable of dissolving. When used with recommended prewash cycles TPM lifetime can be extended further making it very cost effective over time.
How to use TPM Wash Solvent
Always wear Nitrile Gloves when handling TPM.
TPM Wash Solvent is not currently certified for use with biocompatible resins.
For a detailed workflow on Formlabs Wash, visit support.formlabs.com (external).
For removing uncured Resin from SLA or DLP printed parts fill your cleaning container with the amount specified by the manufacturer. To minimize waste, it is suggested to pre-clean the parts before placing them in the cleaning container to expand the lifespan of your fresh TPM. This can be done in a separate container with either "dirty" TPM from previous cleaning cycles. Place the finished print in the cleaning container and clean the parts for at least 5 min or according to the material manufacturers guidelines. After the cleaning cycle, wash the TPM coated part with water or Isopropanol, let the model dry and check for a tacky surface, repeat if necessary, till the surface is not tacky anymore. If it is still tacky it might be a sign to replace the TPM.
Optimal Cleaning stages
Preclean in small container to remove uncured resin and minimize amount of saturated Wash Solvent
First Stage Cleaning: Run Wash cycle in Form Wash with "dirty/used" TPM Wash Solvent
Second Stage Cleaning: Run Wash cycle in Form Wash with fresh TPM Wash Solvent. Due due to the prior wash cycles this TPM can be used for an extended period of time. If performance deteriorated use in first stage.
Final Stage: Remove any TPM Wash Solvent with compressed air and rinse in Isopropanol to speed up the evaporation of TPM Wash Solvent.
Advantages of TPM Wash Solvent
TPM is able to disolve up to 4 times as much resin as IPA
The evaportaion rate of TPM is much slower making it easy to store without loosing much of the product
Almost Oderless to a slight chemical smell makes working with TPM easier on the people in contact
Not Labeled as a dangerous good with no special requirements regarding storage, ventilation or flame hazard makes TPM Wash solvent the perfect indoor, office, Laboratory Solvent
Compatability
Compatible
Formlabs Wash
Formlabs Wash L
How to store TPM Wash Solvent
There are no special requirements regarding the storage of TPM. In General store cool and dry away from sunlight.
Disposal of TPM Wash Solvent
TPM and container as well as rinsing water need to be disposed of at an appropriate waste treatment site.
Labeling according to Regulation (EG) Nr. 1272/2008 (CLP)
This product is not labeled as dangerous.
General precautions
Keep out of reach of children. Avoid breathing mist/vapours. IF IN EYES: Rinse cautiously with water for several minutes. Remove contact lenses, if present and easy to do. Continue rinsing. Store in a well-ventilated place. Keep container tightly closed. Dispose of contents/container in accordance with local regulations.
Supplemental information
| | |
| --- | --- |
| Tariff Code | 2909 4980 |
| Country of Origin | Austria |
| Product weight | 19.2 kg |
| Shelf Life | 24 Months |
| Shipping weight | 5.2 kg |
| Packaging Dimensions | 300 x 260 x 362 mm |
| Shipping Restrictions | Not Restricted |
| SKU | 320025 |
| EAN Code | 9120078083864 |
Download Section