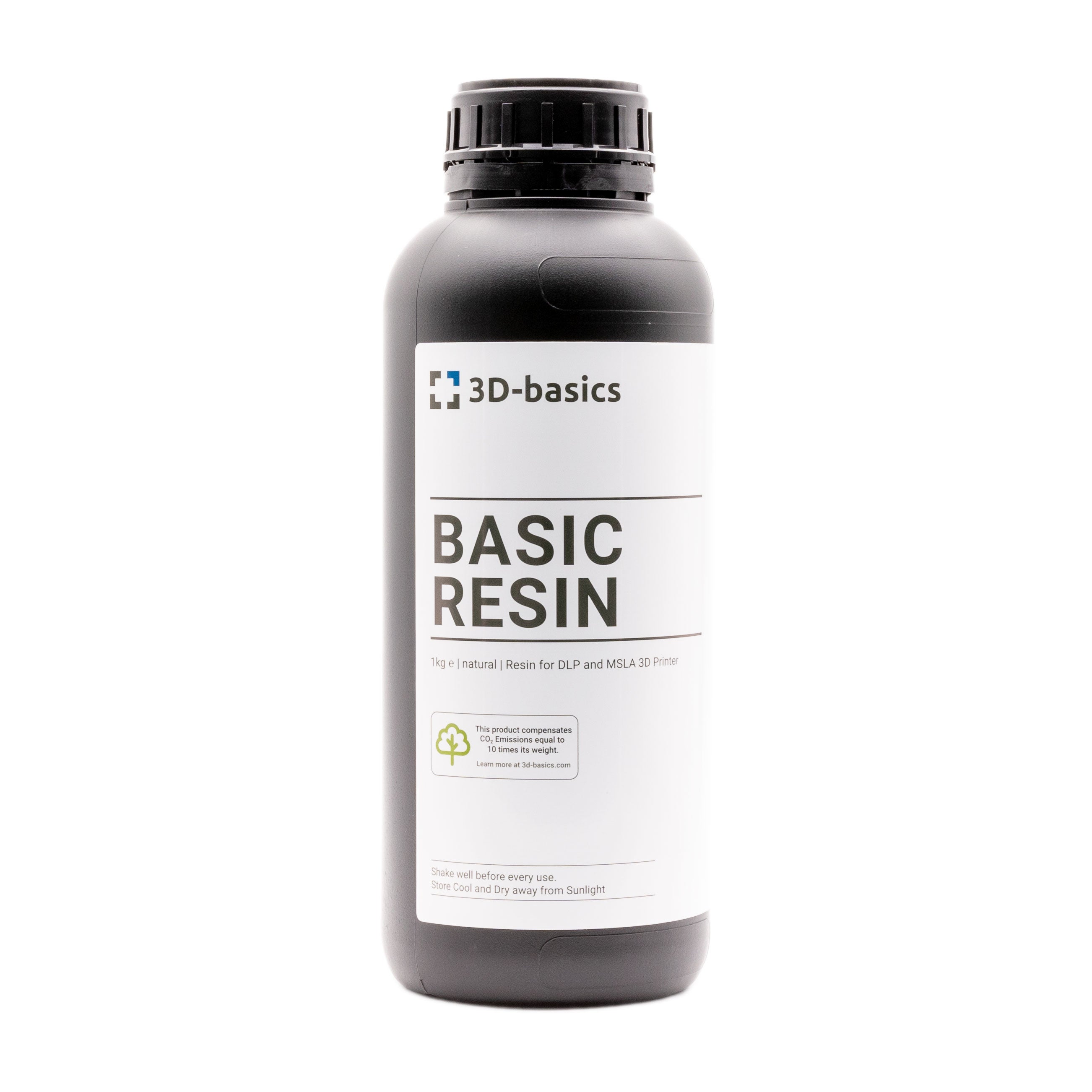 Basic Resin | 500g
US$24.52*
Content:
0.5 kilogram
(US$49.04* / 1 kilogram)
Available, delivery time: 1-3 days
Short description
Experience an unbeatable price-performance ratio with this Austrian-made resin, perfect for drafts, connectors, gadgets, and more. Compatible with DLP and MSLA 3D printers (395-405nm), it delivers stunning results quickly. No shortcuts - just high-quality, affordable 3D printing.
Product features
Can be used in Office spaces
Regulatory information
Basic Resin | 500g compensates CO2-Emissions equal to 10 times its weight. Learn more
Product information "Basic Resin | 500g"
Basic Resin is a high quality 3D printing resin from Austria. Mechanical properties of PLA and thermal properties of ABS (heat resistance 121℃C) make this material a solid all-round resin for all applications. Whether on DLP or MSLA, entry level or 8K 3D printers.
Made in Austria
The resin was developed in Austria and is also produced in Austria in compliance with the highest quality standards. The high quality raw materials have been precisely matched to provide pixel accurate prints with sharp edges and clear details. By using methacrylates, it was possible to do without aggressive or particularly harmful ingredients. As a result, the resin is also virtually odorless.
Colors with system
Basic Resin is transparent with a slight yellow tint as standard. By using Color Ampule, a wide color spectrum is opened up by simply mixing in color. Individual transparent or opaque colors are possible. There is something for every application. Color Ampule
Application of Basic Resin
Always wear Nitrile Gloves when handling Resin.
Shake bottle very well to ensure the color is mixed in.
Pour resin into the Resin tank and start the print.
After your print has finished pour Resin back into the bottle - use a Resin Filter to avoid contaminating the fresh resin. Keep exposure to the outside to a minimum.
To clean your model use DPM Wash Solvent or Isopropanol 99,9%
Store bottle cool and dry away from sunlight.
Recommended print settings for layers of 0.025-0.1mm
4-7(sec. monochrome), 7-12sec. (RGB) exposure per layer
2-5 Base layer
Advantages of Basic Resin
Cost-effective all-round resin
Highest detail and sharp contours
Low odor and no aggressive ingredients
Excellent dimensional stability and low shrinkage
Available in transparent and opaque colors with Color Ampules.
Kompatibilität
Compatible
DLP and LCD 3D printer with a light source ranging from 395nm to 405nm such as Elegoo, Anycubic, Phrozen, Creality,...
Alternatives to Basic Resin
How to Store Basic Resin
Store Basic Resin cool and dry away from sunlight to keep resin at peak condition. Minimize exposure during outside and filter resin before returning it into the bottle.
Disposal of Basic Resin
Dispose of contents/container to hazardous or special waste collection point. Fully cured resin can be disposed of in an appropriate waste stream for plastics.
Labeling according to Regulation (EG) Nr. 1272/2008 (CLP)
Hazard Statements
H317 - May cause an allergic skin reaction. 
H413 - May cause long lasting harmful effects to aquatic life.
Precautionary Statements
P101 - If medical advice is needed, have product container or label at hand. 
P102 - Keep out of reach of children. 
P273 - Avoid release to the environment. 
P280 - Wear protective gloves/protective clothing/eye protection/face protection. 
P302+P352 - IF ON SKIN: Wash with plenty of water. 
P333+P313 - If skin irritation or rash occurs: Get medical advice/attention. 
P501 - Dispose of contents/container in accordance with local/regional/national/international regulations.
Technical Data
| | |
| --- | --- |
| Gravity | 1.18 g/cm³ (25°C) |
Supplemental information
| | |
| --- | --- |
| Tariff Code | 2916 1400 |
| Country of Origin | Austria |
| Product weight | 0.5 kg |
| Shelf Life | 12 Months |
| Shipping weight | 1.15 kg |
| Packaging Dimensions | 76 x 76 x 182 mm |
| Shipping Restrictions | Not Restricted |
| SKU | 33010005 |
| EAN Code | 9120078080443 |
| UFI Code | FD5N-RD75-JT2V-48RF |
Download Section