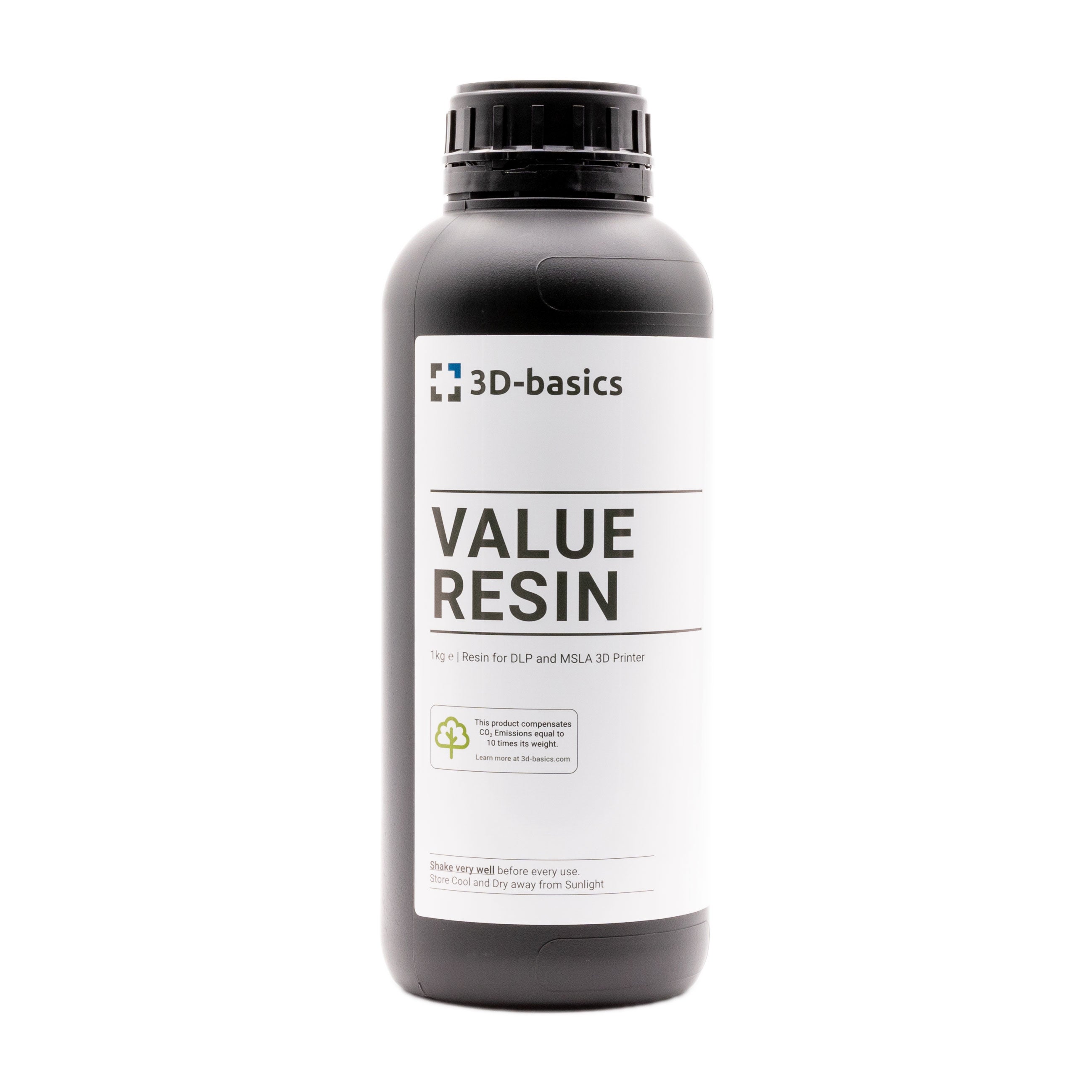 Value Resin | RAL 7001 Silver grey - 1kg
Available, delivery time: 3-4 days
Short description
Offering an impressive price to performance ratio, Value Resin is perfect for drafting, creating connectors, gadgets, or fidgets. Made in Austria, it works with all DLP and M-SLA 3D printers and provides stunning details. Choose from a variety of vivid colors.
Product features
Can be used in Office spaces
Regulatory information
Value Resin | RAL 7001 Silver grey - 1kg compensates CO2-Emissions equal to 10 times its weight. Learn more
Product information "Value Resin | RAL 7001 Silver grey - 1kg"
Amazing price to performance ratio - that is Value Resin. Print a quick draft to test the viability of a design, in need of some connectors, gadgets, or fidgets. Value Resin should be the Resin of choice. Easy to print available in a wide array of translucent and solid RAL colors Value Resin offers the best in class performance.
MADE IN AUSTRIA
Value Resin is produced by 3D-basics in the heart of Europe. High Quality raw materials are mixed in a special purpose Cleanroom to ensure quality throughout the process. Intense vivid colors are added in for a splash of color. Every batch is tested to comply with the high standards expected by 3D-basics.
Easy, fast, amazing results
Value Resin works with all DLP and M-SLA 3D-printer with a light source in the range of 395nm to 405nm to fit into your setup. Get prints done fast for some quick test, models or prototypes. Print on 4K 3D Printer to receive stunning details you might miss on other Resins.
Great Value no shortcuts needed
Value Resin is made from high quality raw materials from leading Resin component manufacturers. Economy of scale helps keep the price of Value Resin at an affordable price. At 3D-basics all formulations are created and tested in house. During the development ingredients are carefully selected with their health and safety implications in mind.
How to use Value Resin
Always wear Nitrile Gloves when handling Resin.
Shake bottle very well to ensure the color is mixed in thoroughly.
Pour resin into the Resin tank and start the print.
After your print has finished pour Resin back into the bottle - use a Resin Filter to avoid contaminating the fresh resin. Keep exposure to the outside to a minimum.
To clean your model use DPM Wash Solvent or Isopropanol 99,9%
Store bottle cool and dry away from sunlight.
Advantages of Value Resin
Print beautiful models, figurines, decorative elements in stunning details.
Great entry price to start and draft ideas.
Low oder for a pleasant work environment.
Many colors to choose from to find one that is right for your project.
Compatible with all common DLP and M-SLA 3D-Printer.
Compatibility
Compatible
DLP, M-SLA and LCD 3D printer with a light source ranging from 395nm to 405nm such as from Elegoo, Anycubic, Phrozen, Creality,...
Alternatives to Value Resin
How to Store Value Resin
Store Value Resin cool and dry away from sunlight to keep Resin at peak condition. Minimize exposure to environment during handling and filter Resin before returning it into the bottle.
Disposal of Value Resin
Dispose of contents/container to hazardous or special waste collection point. Fully cured Resin can be disposed of in an appropriate waste stream for plastics.
Technical Data
| | |
| --- | --- |
| Gravity | 1.05 g/cm³ (25°C) |
Supplemental information
| | |
| --- | --- |
| Tariff Code | 2916 1400 |
| Country of Origin | Austria |
| Product weight | 1 kg |
| Shelf Life | 12 Months |
| Shipping weight | 1.15 kg |
| Packaging Dimensions | 90 x 90 x 240 mm |
| Shipping Restrictions | Not Restricted |
| SKU | 33107011 |
| EAN Code | 9120078083796 |
| UFI Code | WND3-NDMQ-P23R-GXDP |
Download Section